Septic Services in Bayville, New Jersey
Affordable Pumping Services
About this Location
Hours: Service 24/7
Address: 37 Locker St. Bayville, NJ 08721
Founded in 1999, Affordable Pumping Services has served the New Jersey, area for over 19 years. Throughout their history, their main goal has remained the same: to deliver quality, value and, most of all, service. Now as part of the Wind River Environmental Family of companies, that goal is no different.
You may not think it's possible to find someone that is passionate about septic tanks but believe us, it is! If you hire us for your septic tank repair, pumping, or cleaning – you'll recognize our passion for the project right away.
Our commitment means we work harder and smarter than our competition. We are at the forefront of our industry and offer our customers the latest services, technology and information available.
Service Offerings
Business
Residential
Municipal
By City
Aberdeen
Aberdeen Township
Adelphia
Allenhurst
Allentown
Allenwood
Asbury Gardens
Asbury Park
Atlantic Highlands
Avon
Avon-by-the-Sea
Barnegat
Barnegat Light
Barnegat Light Boro
Barnegat Township
Bass River
Bay Head
Bayville
Beach Haven
Beach Haven West
Beachwood
Belford
Belle Mead
Belmar
Berkeley
Berkeley Township
Birmingham
Blackwells Mills
Blawenburg
Bordentown
Bordentown Township
Bound Brook
Bradevelt
Bradley Beach
Bradley Gardens
Bradley Park
Brant BeachBrick
Bricktown
Bridgewater
Brielle
Browns Mills
Brownville
Cedar Beach
Cedar Bonnet Island
Cedar Glen Lakes
Cedar Glen West
Cedar Run
Chatsworth
Chesterfield
Chesterfield Township
Clarksburg
Clearbrook Park
Cliffwood
Cliffwood Bch
Cliffwood Beach
Clyde
Cold Indian Springs
Colonial Terrace
Colts Neck
Columbus
Concordia
Cookstown
Country Lake Estates
Cranbury
Cranbury Township
Cream Ridge
Creamridge
Crestwood Village
Crosswicks
Dayton
Deal
Deal Park
Dover Beaches North
Dover Beaches South
Dover Township
Dunellen
E Windsor
Eagleswood
Eagleswood Township
Earle Naval Weapons Station
East Brunswick
East Franklin
East Freehold
East Keansburg
East Millstone
East Rocky Hill
East Windsor
Eatontown
Edison
Elberon
Elberon Park
Englishtown
Ewing
Ewing Township
Fair Haven
Farmingdale
Fieldsboro
Finderne
Forked River
Fort Dix
Fort Hancock
Fort Monmouth
Franklin Center
Franklin Park
Franklin Township
Franklin Twp
Freehold
Freehold Township
Ft Dix
Gateway National Recreation
Georgia
Green Brook
Green Brook Township
Green Knoll
Griggstown
Groveville
Hamilton
Hamilton Square
Hamilton Township
Harlingen
Harvey Cedars
Harvey Cedars Boro
Hazlet
Heathcote
Helmetta
High Bar Harbor
Highland Park
Highlands
Hightstown
Hillsborough
Holiday City South
Holiday City-Berkeley
Holiday Heights
Holmdel
Holmdel Village
Hopewell
Hopewell Township
Howell
Ideal Beach
Imlaystown
Indian Mills
Interlaken
Island Heights
Jackson
Jackson Township
Jacobstown
Jamesburg
Jerseyville
Jobstown
Juliustown
Keansburg
Kendall Park
Keyport
Kingston
Lacey
Lacey Township
Lake Como
Lakehurst
Lakewood
Lakewood Township
Lanoka Harbor
Laurence Harbor
Lavallette
Lawrence
Lawrence Township
Lawrenceville
Leh
Leisure Knoll
Leisure Village
Leisure Village East
Leisure Village West
Leisuretowne
Leonardo
Lincroft
Little Egg Harbor
Little Egg Harbor Township
Little Egg Harbor Twp
Little Silver
Little Silver Point
Loch Arbour
Locust
Long Bch Twp
Long Beach
Long Beach Township
Long Branch
Loveladies
Madison Park
Manahawkin
Manalapan
Manalapan Mall
Manasquan
Manchester
Manchester Township
Manchester Tw
Mansfield
Mantoloking
Manville
Marlboro
Marlboro Township
Martinsville
Matawan
Mayetta
Mc Guire Air Force Base
McGuire AFB
Mercerville
Merrill Lynch
Middlebush
Middlesex
Middletown
Millhurst
Millstone
Millstone Township
Milltown
Monmouth
Monmouth Beach
Monmouth Hills
Monmouth Junction
Monmouth Park
Monroe
Monroe Township
Monroe Twp
Montgomery
Morgan
Morganville
Mystic Island
Mystic Islands
N Brunswick
Navesink
Neptune
Neptune City
Neptune Township
New Brunswick
New Egypt
New Gretna
New Hanover
New Hanover Township
New Lisbon
New Monmouth
Normandy Bch
Normandy Beach
North Beach
North Beach Haven
North Branch
North Brunswick
North Brunswick Township
North Hanover
North Hanover Township
North Long Branch
North Middletown
Oakhurst
Ocean
Ocean Acres
Ocean Gate
Ocean Grove
Ocean Mall
Ocean Township
Oceanport
Old Bridge
Old Bridge Township
Ortley Beach
Osbornsville
Osbornville
Parkertown
Parlin
Pelican Island
Pemberton
Pemberton Heights
Pemberton Township
Pennington
Perrineville
Phalanx
Pine Beach
Pine Lake Park
Pine Ridge at Crestwood
Piscataway
Piscataway Township
Plainsboro
Plainsboro Center
Plainsboro Township
Pleasant Plains
Pluckemin
Plumsted
Plumsted Township
Point Pleasant
Point Pleasant Beach
Point Pleasant Boro
Port Monmouth
Port-au-peck
Presidential Lakes Estates
Princeton
Princeton Jct
Princeton Junction
Princeton Meadows
Princeton Township
Princeton University
Pt Pleasant
Pt Pleasant Beach
Ramtown
Raritan
Red Bank
Robbinsville
Robertsville
Rocky Hill
Roosevelt
Rossmoor
Rumson
Toms River
Sands Point
Sandy Hook
Sayreville
Sea Bright
Sea Girt
Seaside Heights
Seaside Park
Shamong
Shamong Township
Shark River Hills
Shark River Manor
Ship Bottom
Ship Bottom Boro
Shrewsbury
Shrewsbury Township
Silver Ridge
Six Mile Run
Skillman
Society Hill
Somerset
Somerville
South Amboy
South Belmar
South Bound Brook
South Branch
South Brunswick
South Brunswick Township
South Plainfield
South River
South Seaside Park
South Toms River
Southampton
Southampton Township
Southampton Twp
Spotswood
Spring Heights
Spring Lake
Spring Lake Heights
Stafford
Stafford Township
Staffordville
Strathmore
Surf City
Surf City Boro
Tabernacle
Tabernacle Twp
Ten Mile Run
Tennent
Tinton Falls
Titusville
Toms River
Trenton
Tuckerton
Tuckerton Boro
Twin Rivers
Union Beach
Upper Freehold
Upper Freehold Township
Vail Homes
Vanderburg
Vincentown
Vista Center
W Keansburg
W Windsor Township
Wachovia
Wall
Wall Township
Wanamassa
Waretown
Warren Grove
Wayside
West Belmar
West Creek
West Deal
West End
West Freehold
West Keansburg
West Long Branch
West Trenton
West Tuckerton
West Windsor
West Windsor Township
Westboro
Weston
White Horse
Whitesville
Whiting
Whittingham
Wickatunk
Windsor
Woodland
Wrightstown
Yardville
Yorketown
Zarepath
Zarephath
By Zip Code
07080
07701
07702
07703
07704
07709
07710
07711
07712
07715
07716
07717
07718
07719
07720
07721
07722
07723
07724
07726
07727
07728
07730
07731
07732
07733
07734
07735
07737
07738
07739
07740
07746
07747
07748
07750
07751
07752
07753
07754
07755
07756
07757
07758
07760
07762
07763
07764
07765
07799
08002
08003
08005
08006
08007
08008
08010
08011
08015
08016
08019
08022
08026
08029
08030
08031
08033
08034
08035
08036
08041
08042
08043
08045
08046
08048
08049
08050
08052
08053
08054
08055
08057
08059
08060
08064
08065
08068
08073
08075
08076
08077
08078
08083
08084
08087
08088
08092
08099
08101
08102
08103
08104
08105
08106
08107
08108
08109
08110
08201
08203
08205
08213
08215
08217
08220
08221
08223
08224
08225
08226
08231
08232
08234
08240
08241
08244
08330
08401
08402
08403
08404
08405
08406
08501
08502
08504
08505
08510
08511
08512
08514
08515
08518
08520
08525
08526
08527
08528
08533
08534
08535
08536
08540
08541
08542
08543
08544
08550
08553
08554
08555
08558
08560
08561
08562
08601
08602
08603
08604
08605
08606
08607
08608
08609
08610
08611
08618
08619
08620
08625
08628
08629
08638
08640
08641
08645
08646
08647
08648
08650
08666
08690
08691
08695
08701
08720
08721
08722
08723
08724
08730
08731
08732
08733
08734
08735
08736
08738
08739
08740
08741
08742
08750
08751
08752
08753
08754
08755
08756
08757
08758
08759
08805
08807
08810
08812
08816
08817
08818
08820
08823
08824
08828
08831
08835
08836
08837
08844
08846
08850
08852
08854
08855
08857
08859
08869
08871
08872
08873
08875
08876
08879
08880
08882
08884
08890
08899
08901
08902
08903
08904
08905
08906
08922
08933
08988
08989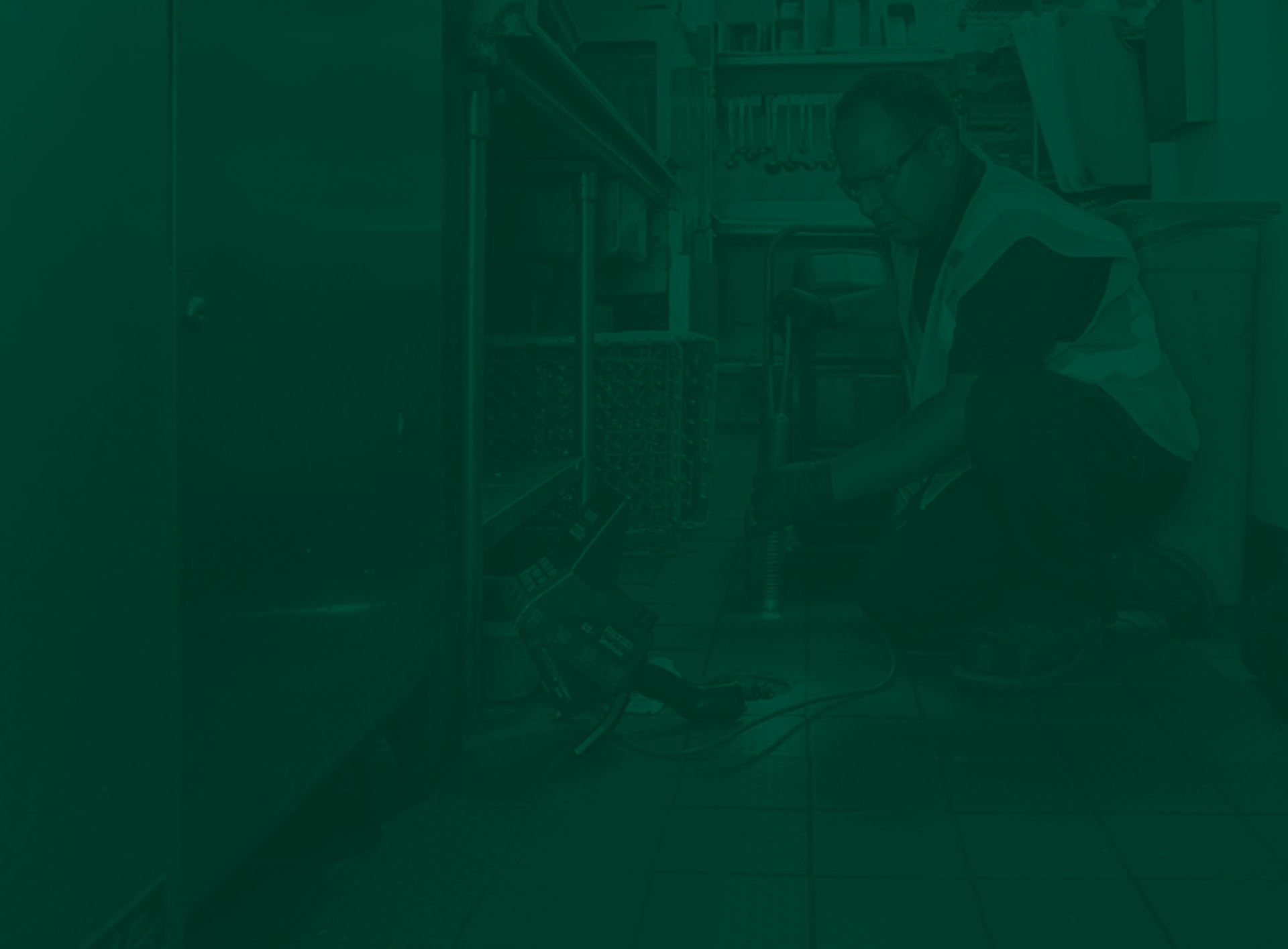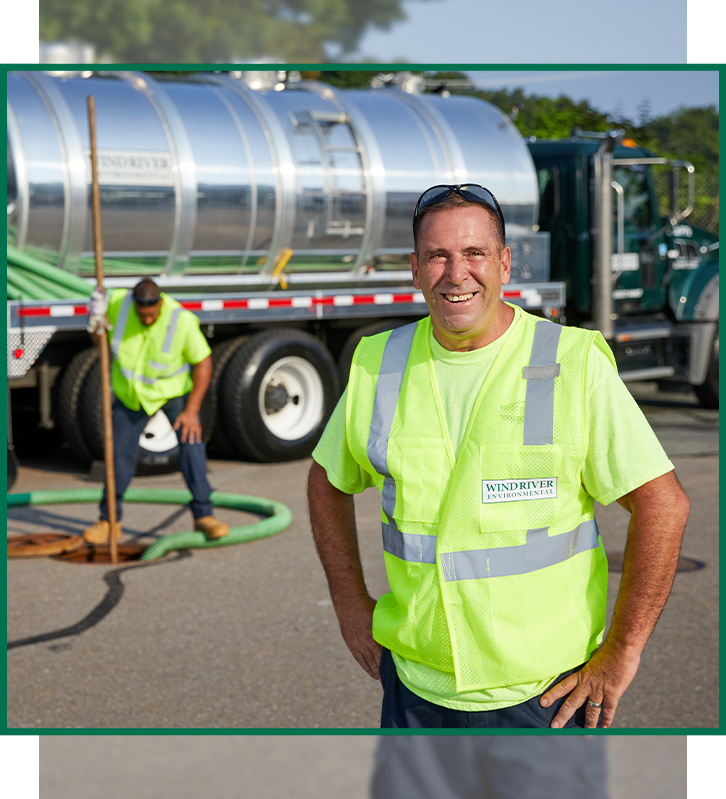 About Our Full-Service Company Why Wind River Environmental?
Customers enjoy the convenience of having multiple needs met by one service provider.

Authentic Customer Service

We don't send you to voicemail. A professional is always here to answer your call.

Every staff member has graduated from our extensive training program.

We have a full-time staff dedicated to environmental compliance.

Days, nights, weekends, national holidays—we're always here for you.

Detailed Online Reporting

Our technicians can enhance service with all of the capabilities of our mobile app.

Multiple Service Offerings

Our services range from liquid waste management to drain services and beyond.

We have the largest fleet in the industry and offer consistent service across regions.
Affordable Pumping Services' Best Qualities
Experienced: We have nearly 30 years of experience working with septic tanks. Through the years, we have faced many challenges and come up with many unique solutions to resolve unique problems. We're confident that no matter what type of service you'll need, we'll be able to exceed your expectations.
Reliable: When you hire Affordable Pumping Services, you'll know that you have one of the highest rated and most reliable companies in the business.
Quality: We know that your septic tank is an extremely important part of your daily life and we are going to ensure that it is working correctly after we finish our work. We ensure a high quality of work is performed, no matter how big or small of a job.
Value: We are confident in saying that we offer the best value in the business. Our prices are competitive and you will not find the same level of service anywhere else.
Focus on Latest Technologies: Like any other industry, the septic tank industry has been advanced with the latest technology. As we join Wind River Environmental, we continue to invest in the latest technology so we can provide our customers with the best service possible. This new technology helps us continue to ensure that the problem you were facing is resolved and there aren't any other underlying issues.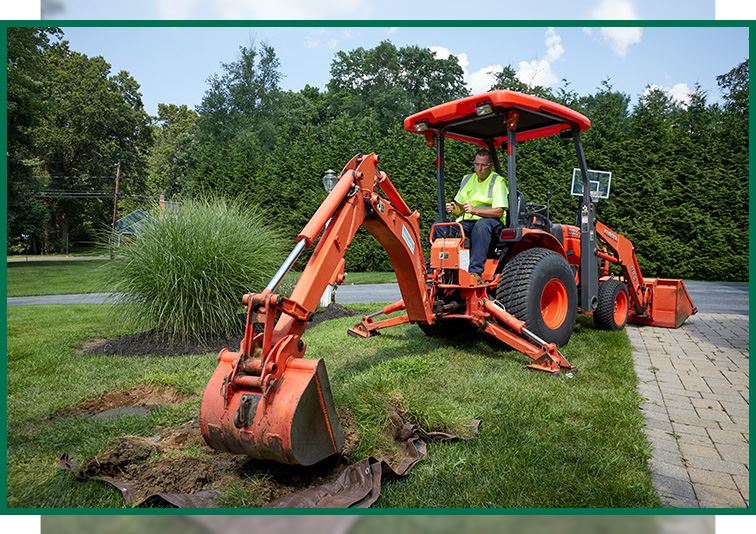 Hear From Happy Customers
"Very professional - made recommendations where repairs might be needed to prevent future problems."

- Niamh O.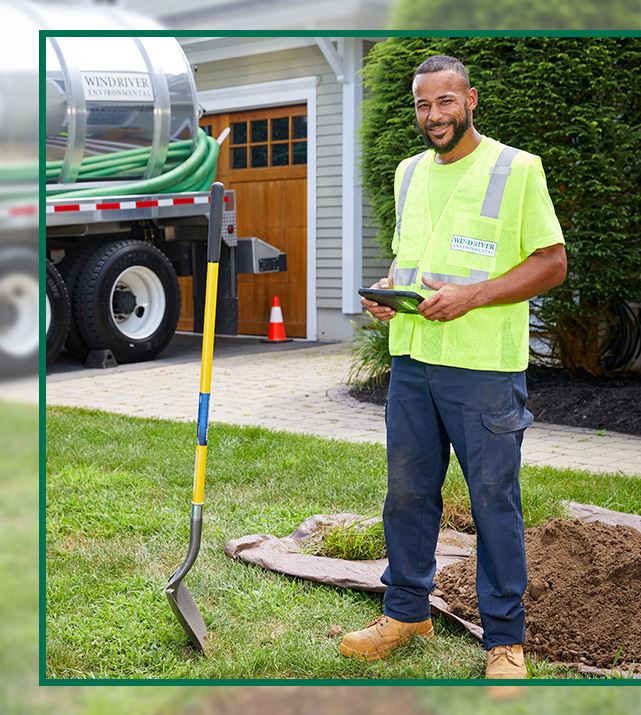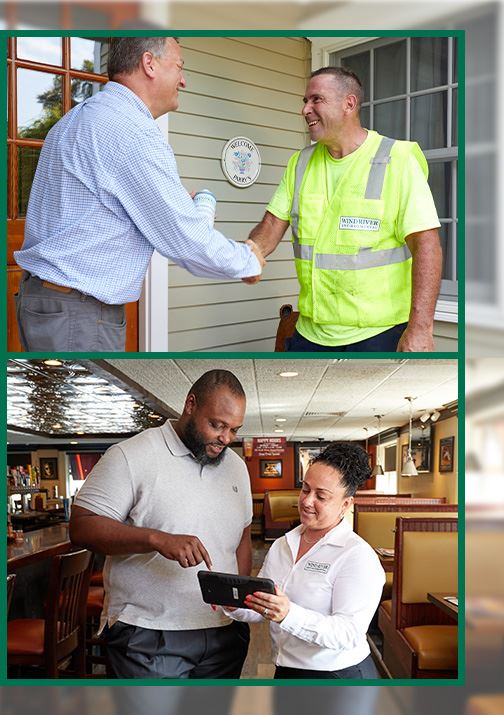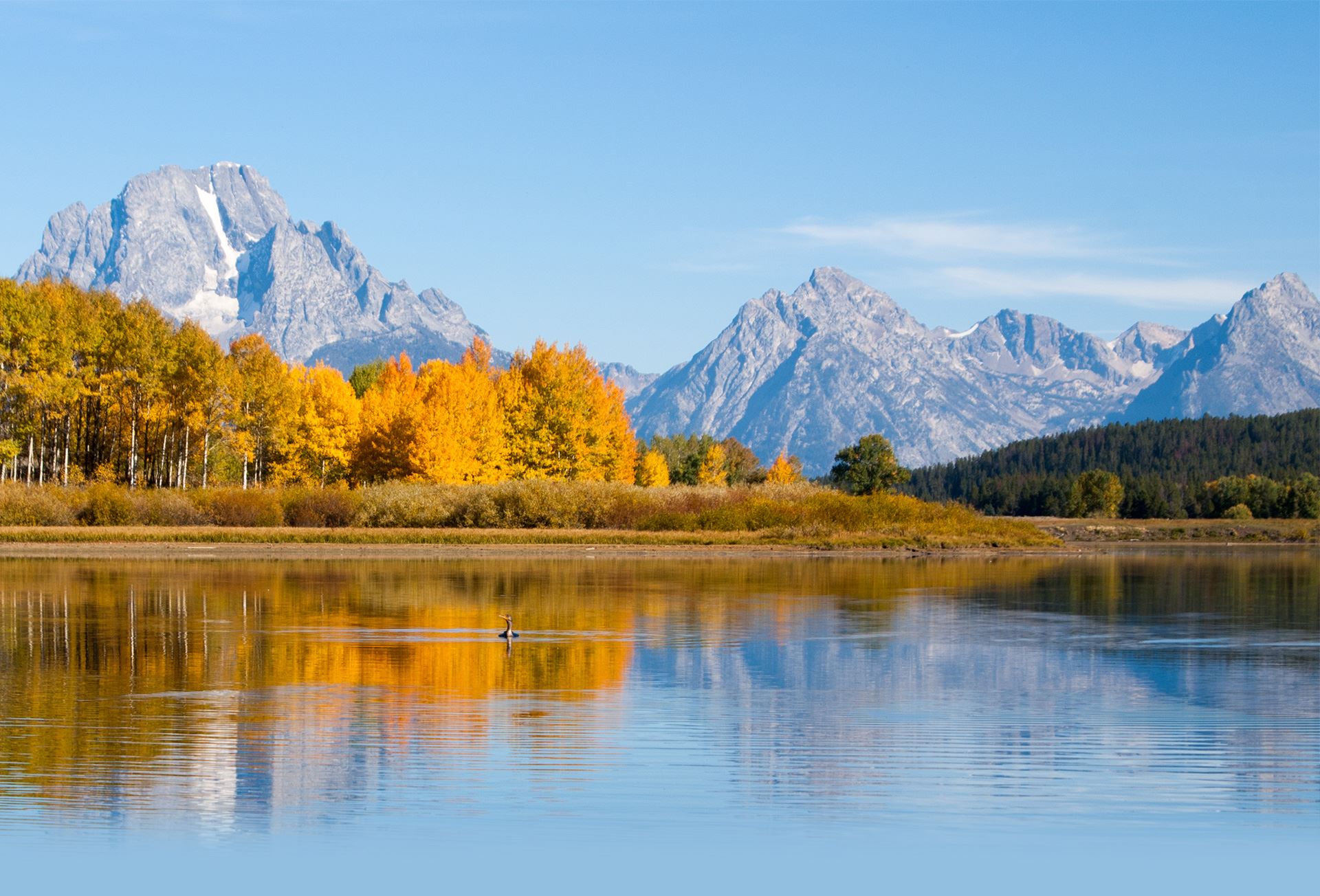 Wind River Environmental Contact Us Today