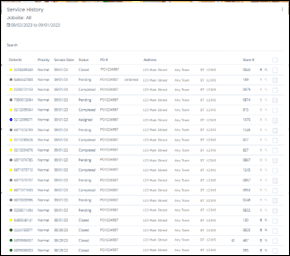 The Service History page provides a list of your services, a color-coded status and allows you to view and download the associated documents.
You can select individual job documents, or you can use the Select All checkbox to select all available documents. If there are no documents, the checkbox on that row will be greyed out.
Once selected, you can either view these associated documents on screen using the View Icon or download to a PDF using the Download Icon.
The OrderID is a link that will bring you to the Order Detail page displaying additional order information.